•Prices include installation 
•50% Deposit needed at start of build 
•Credit Cards are accepted 
•Prices are subject to change without notice
•5% Discount for cash payments 
Additional 18×27″ Window 
$125 each
Windows are available in white or brown. The bottom portion slides up and down and includes screens. Sheds up to 80 sq. ft includes one window. Sheds over 80 sq. ft includes two windows.

24″ Deep Workbench
$9 Linear Ft
Our work bench runs the full width of the shed and is 24″ deep. Perfect for a potting bench or a tool bench. It can also be used as a nice storage shelf for boxes.
32″ Deep Loft
$11 Linear Ft
Our storage loft runs the full width of the shed and is 32″ deep. It is a great way to save floor space. Use it for bulky items like patio cushions or umbrellas!

Heavy Duty Ramp
$140 each
If you ride on a lawn mower or snow blower then you will want this ramp. We build them to withstand heavy loads for your convenience.
Custom Painting
$4/sq. ft ($250 Minimum)
We offer custom painting of your sheds. If you would like a different color then the standard tan we have more options. We use Benjamin Moore Premium Paint.

9×27″ Shutters
$60 each
We offer vinyl shutters in a variety of colors. You can choose from White, Black, Green, Maroon, and Blue.  Not available at this time
Old Shed Demo & Dump Service
$8/sq. ft
We offer shed demo and removal services in our local area, up to about 15 miles from our location. We charge $8 per square feet. So if you had a 10×10 old shed that is 100 sq. ft and the price would be $800 to demo & dump.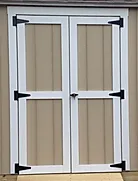 Extra Set of Double Doors
$400
Sometimes customers may want two sets of double doors for easier access into the shed.
Extra Single Door- $250